10 Best Beginner Longboards for Kids and Teens in 2023
Nowadays, the obsession with longboarding is high among kids. If you are a parent, getting your child out of the house takes work. But some cool outdoor sports equipment, such as a longboard, can help. However, choosing the right longboard for your kids can be challenging. Don't worry. We have got you covered. In this in-depth guide, we reviewed some of the best beginner longboards for kids and teens on the market.
Yes, longboarding is a popular means of transportation. Apart from that, longboarding has many social, physical, and emotional benefits. It can be a fun way to get some much-needed exercise for both adults and children. Longboards are also safer than skateboards for beginners. 
The best thing is most beginner longboards don't require an excessive amount that breaks the bank. Let's check out some top beginner longboards for kids at a very reasonable price.
Best Beginner Longboards For Kids
Our Top Picks
| | | | |
| --- | --- | --- | --- |
| | | | |
| | Atom Longboards Atom Drop Through Longboard | | |
| | Teamgee H5 37" Electric Skateboard | | |
| | Playshion Longboard Skateboard Cruiser | | |
| | Magneto Kicktail Cruiser Longboard | | |
Overall Best Longboard for Kids:

Atom Drop Through Longboard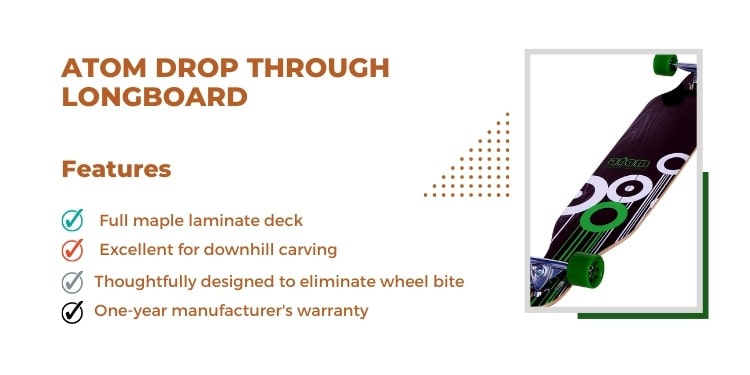 If your little one is getting into longboarding, you might consider getting your child the Atom Drop Through Longboard.
The Atom Drop Through Longboard isn't only a well-built beginner longboard but also has all the features a kid, pre-teen, or teen needs. The board maintains high quality for everything from the deck to the bearings. Moreover, the board can hold a weight of up to 275 lbs.
This Atom Longboard has a drop-through deck to make pushing and controlling the board easier. Another fantastic detail about this board is its super sticky grip tape made of silicon carbide to keep the foot in place. This way, it ensures that your child gets the ultimate longboarding experience.
The lightweight board is specially designed for beginners to carry around easily. It also has a good flex level, ensuring a sweet, smooth ride. The longboard comes with responsive trucks for smooth turning. The combination of large soft durometer wheels and rubber-shielded ABEC 9 bearings makes it a great cruiser longboard for beginners.
The only thing that could be improved is the bushings. They are on the tighter side. With so many great features, it might not be a big deal.
Pros
+ Easy to carry
+ Drop-through deck
+ A quality cruiser board for beginners
+ High-quality materials and construction
Cons
– The board doesn't include a safety checklist for beginners.
Best Electric Longboard for Kids:

Teamgee H5 37″ Electric Longboard with Wireless Remote Control
Teamgee is well-known in the skateboarding world for making lightweight and safe electric skateboards. Teamgee H5 is a good-quality electric longboard from the brand. We preferred this longboard over the Meepo V3 Electric Longboard. That is because this one has been designed with beginner riders in mind.
There are four different speed control modes making it easy to ride for starters. The top speed is 22 miles per hour, which can be easily controlled with a wireless hand-held remote. 
The lightweight board has a 37" drop-through deck and weighs only 14.55 pounds. The deck is made with Canadian maple wood and fiberglass, making the board very reliable and sturdy. It is no wonder that the deck can hold weights up to 220 lbs. It's also cheaper compared to other electric longboards. Finding an electric longboard for a price point that can ride up to 22 mph will be a challenge. 
The best part is Teamgee H5 comes fully assembled. Your children don't have to wait to ride this cool-designed board once received. Considering the features and price, this is one of the best beginner electric longboards for older kids, tweens, and teens.
Pros
+ Very reasonable price
+ Comes with a wide deck and strong truck
+ Great quality electric longboard for beginners
Cons
– The battery doesn't last 10 miles as advertised.
Best Value Longboard for Kids:

Playshion Drop Through Freestyle Longboard Cruiser
If you have been looking for a beginner longboard that provides the best value for your money, you might consider getting the Playshion Drop Through Freestyle Longboard Cruiser.
You do not have to worry about whether your little one wants it for cruising, sliding, curving, downhill, freeride, or freestyle. That is because the versatile board has all the components to offer a fantastic experience for both beginners and experts.
The 39" deck is made with a combination of 5-ply rock maple and 2-ply bamboo, making the deck sturdy and flexible. The 9.1" width of the deck offers enough room to position the foot comfortably.
Similar to the Atom Longboard, it has a drop-through deck. Since the deck is very close to the ground, riders can easily push and brake. This is one reason why a drop-through deck is an ideal choice for beginners.
The 70mm soft PU wheels, 7″ aluminum trucks, and rubber riser are very well-made. The board has a maximum weight capacity of 250 lbs, which is more than enough for a beginner rider.
The big wheels with the Abec-9 Bearings ensure more control and stability while riding the board. Additionally, the board comes with a skate tool, which can be very handy if you want some adjustments.
Though the grip tape on the deck is super grippy, you might struggle to clean dirt caked onto it. Make sure you have selected your child's preferred color before ordering one!
Pros
+ Excellent value for money
+ Comes with a free skate tool
+ Availability of a wide range of colors
+ Great board for kids and youth beginners
Cons
– No ideal for tricks and stuff
Best Affordable Longboard for Kids:

Magneto Kicktail Cruiser Longboard
If you are looking for a quality beginner longboard at a cheap rate, then Magneto Kicktail Cruiser Longboard is a great choice. This longboard is engineered to suit multiple riding styles for new riders. With the kicktail shape, both kids and adult beginners can cruise around the town smoothly.
In addition, all the features are designed appropriately for an easy and safe ride. The 44-inch deck of the board is larger than most beginner decks. The deck's flexibility and width are designed so that a beginner can enjoy a nice ride. A blended bamboo and maple wood construction gives the deck added durability and toughness.
The durable aluminum 7-in aluminum trucks and 78A soft urethane wheels are easy to adjust. All of these are important if your little one has just started to learn cruising and carving.
Finally, the board looks gorgeous and well-finished. It's not heavy, so riders don't have to worry about carrying it around. The price of this board is a big plus point. It is tough to imagine such an excellent US-built board in this price range.
Pros
+ Deck specifically designed for the beginners
+ Includes all the features that a beginner needs
+ Smooth and durable wheels
Cons
– The trucks and wheels need some adjustments.
Good Beginner Longboards for Kids
Rated Highly by Parents and Experts
| | | | |
| --- | --- | --- | --- |
| | | | |
| | Junli 41 Inch Freeride Skateboard Longboard | | |
| | White Wave Bamboo Longboard Skateboard | | |
| | Slendor Longboard Skateboard 42 inch Drop Through Deck | | |
Junli Freeride Skateboard Longboard
If you want a beginner longboard skateboard for your daughter, go for the Junli Freeride Skateboard Longboard. That is because the design and size are perfect for a beginner girl.
The board features a 41″ long x 9.5″ wide deck made of 8-ply natural maple wood. The width of the deck is really impressive for a beginner board. The 7-inch trucks featured on this board are made of aluminum alloy. You get a free tool with the board to adjust your trucks. The deck and trucks can support a maximum weight of 330 lbs.
The top surface of the deck is brushed black so that it can keep the foot in position. The 80A PU wheels and ABEC-11 bearings are standard for a starter board. All of these ensure a fun and smooth riding experience for beginner riders.
Overall, this is an excellent board for a rider just getting started in skateboarding, not so much in tricks and stuff.
Pros
+ Comes with a free T-tool
+ Available in different colors
+ Wide deck and a good weight capacity
Cons
– Trucks and wheels upgrade needed for a better riding experience
White Wave Bamboo Longboard Skateboard Complete
White Wave is of the newest longboard brands around. Quality product at an affordable price is the motto of White Wave. The White Wave Bamboo Longboard features quality components that fit both beginner and intermediate riders.
Instead of buying a cheap beginner longboard and upgrading the components, why not buy a high-quality longboard in the first place? The board is designed with a combination of drop-down deck and drop-through trucks keeping beginner riders in mind. The 36″x9″ deck is solid and durable, thanks to the multiple layers of bamboo and Canadian maple wood construction. In addition, the deck has a really cool grippy top side due to the heat-transferred graphics and solid grip tape.
The board includes big aluminum trucks with high rebound bushings for more stable and responsive riding. So young riders can learn to cruise and carve very smoothly.
There's more. The board uses high rebound urethane wheels measuring 70 mm x 50 mm in diameter and a durometer. Not just larger, but the wheels are softer as well. The Abec 9 Hellion 2 bearings with built-in spacers further enhance the speed and durability of the board.
All of these components make a high-quality complete longboard for beginners.
Pros
+ Double drop deck 
+ Drop-through trucks
+ Comes with high-quality wheels and bearings
Cons
– Faster than average beginner longboards. So take safety precautions before riding. 
Slendor Longboard Skateboard
Allow us to be a little biased about this Slendor Longboard Skateboard. We particularly love how this longboard looks.
A beginner who is just getting started doesn't need all the fancy features of a longboard. Instead, they need a board that suits their interests, and Splendor Longboard Skateboard includes just that. The board is specially designed for beginner tweens and teens. Both boys and girls will love the color pattern and cool design.
What we like most about this longboard is that it has a quite sturdy and flexible deck. The drop-through camber deck is 9 inches wide and made from cold-pressed 9-ply maple wood with epoxy glue. The super-flex deck makes it easier to ride on rough terrain by absorbing shock.
The board comes with 7″ genuine aluminum alloy trucks, easily adjustable by a skate tool. Then there are 85A PU wheels with PU shock-absorbing rings for extra cushioning and comfort. What could you ask more for a beginner longboard?
Slendor stands behind its product and offers a 100% money-back guarantee if unsatisfied. If you want a pricey board, there are several out there. But you won't get a better board for a starter, especially in this budget.

Pros
+ Soft yet durable wheels
+ 100% money-back guarantee
+ Well-designed for the beginners
+ Comes with a nice drop-through camber deck
Cons
– Not so fast
Other Recommended Beginner Longboards for Kids
Fish Skateboards Downhill Longboard
Fish Skateboards have recently come to the limelight because of their superior performance as beginner boards.
Don't worry whether you want to buy this longboard for a child aged 6 or 15 years old. This one is a great beginner longboard, regardless of age.
A beginner board should offer a smooth, balanced ride, keeping the safety of little riders in mind. So it has to be built specifically for the users.
This downhill longboard has a 9"x41" deck made with 8-ply Canadian maple wood. The measurement of the deck is more than ideal for a junior rider.
The HR82A anti-shock PU wheels offer a smooth ride. In addition, they have 7.0" trucks made from heavy-duty aluminum. However, some users reported that the board isn't great for turning as it often causes wheel bite while turning. For a better experience, you definitely have to invest in better-quality wheels and bearings.

Pros
+ Cool design
+ Lightweight board
+ Comes pre-assembled
+ An affordable beginner longboard
Cons
– Not ideal for taking a sharp turn
VOLADOR Maple Longboard Cruiser
This is a quality Volador Maple Longboard at a reasonable price. Only a few beginner boards offer more strength and maneuverability than the Volador Maple Longboard. The Volador Maple Longboard stands out as a promising longboard for beginners.
The first thing we like about this board is the drop-through deck. The deck has a perfect size for beginners, which is 40 inches in length and 9 inches wide. VOLADOR used 8-ply hard maple in this deck, which offers a good mix of flexibility and stability.
The 47-Inch reverse kingpin trucks are made from genuine aluminum alloy to promote excellent adjustability of the board. The 80A PU wheels with ABEC-7 precision bearings help beginners to ride the board smoothly.
The deck is tested using the latest engineering technology to prevent wheel bites. The board also includes unique geometric graphics to stand out in the market.
Pros
+ A customized longboard for beginners
+ Comes with a high-quality deck
+ Durable and stable
Cons
– The bearings lack quality.
Retrospec Zed Bamboo Longboard Skateboard Complete Cruiser
Do you want to surprise your pre-teen? Retrospec Zed Bamboo Longboard Skateboard Complete Cruiser could be the most fantastic gift for your child getting into longboarding. The precise design of the board perfectly matches a beginner's size, ability, and strength.
The hard rock deck of the board is ridiculously long and wide. You will see a few beginner longboards with a length of 44 inches and a width of 9.5 inches. Retrospec is an eco-conscious brand, and its boards are made from sustainably sourced bamboo and Canadian maple wood.
All of the components used in this Zed Classic Longboard are made from quality materials. The reverse kingpin trucks are super responsive. The aluminum trucks are pretty lightweight but capable of holding weight up to 220 lbs. They have big and sticky PU wheels for safe and stable riding.
Regarding the wheel bite issues, you can count on Retrospec. It has anti-bite technology in place to prevent wheel bites at all costs.
There's more. You can choose from four well-thought-out designs. As they are designed for starters, you might feel little to no flex. If you want to add flex to the board, you must upgrade the wheels and bearings.

Pros
+ Good value for the price
+ The board is very lightweight
+ Slick design with a comfortable grip
Cons
–  The deck has little to no flex.
Read Also: Hoverboard Vs Electric Scooter Vs Skateboard: Which is Better?
Buying Guide: Beginner Longboards for Kids
Questions & Answers
What is the safe age for children to start longboarding?
The short answer is it depends on your child. Every child and their development stage is unique. According to the American Academy of Pediatrics (AAP), skateboarding or longboarding isn't safe for kids younger than 5. 
Yes, it's okay to get started as soon as your child shows interest. But help them get started with adult supervision. Indeed, they won't be too good when they start out. But the sooner they get involved, the better they get.
However, it's important not to start too early because it could be counter-productive. Longboarding can be dangerous for little kids.
The key is to have fun. As a parent, you can teach them how to ride smoothly and safely. Take them out in the late afternoon and let them ride with you. It will be a fun and memorable experience for both of you. 
What features should you look for in a longboard for kids?
For the beginner rider, there are some areas that you need to focus on when buying beginner longboards for your kids. Below are some important features you should look for in a beginner longboard:
Quality and width of the deck

Quality of the trucks, wheels, and bearings

Design

Cost
You should take these areas into account before purchasing a longboard for your child. The quality and width of the deck should be the first consideration. That is because the width of the deck influences stability. Also, make sure the deck is made of high-quality materials.
You must choose a board based on your child's preference. Pick a board that has vibrant colors and graphics. Finally, a beginner longboard doesn't cost a fortune. Most beginner longboards cost anywhere between 50$ to 200$.
How to choose the best longboard for kids and beginners?
For young riders, the safety of their equipment should be every parent's first consideration. The board needs to be lightweight to help them get started.
The biggest mistake most parents make when getting their kids a longboard is that they buy beginner boards that are too cheap. Cheap longboards can make it difficult for the child to learn how to ride. If they don't enjoy riding, they will lose interest fast. For learning and enjoyment, it is actually better to invest in a quality beginner longboard. These longboards are easier to control and ride well.
Wrapping Up
If your child is a beginner, you should initially buy a 38 to 44-inch drop-down cruiser and then upgrade as skill improves. However, you can't just go and buy a random one. Pick one from the above-reviewed best longboards for beginners and kids.
We have thoroughly researched and tested each board to help you find the right one for young riders. We hope that you will find one from our list. If you still want to take a look at more reviews about the best longboards for beginners, check out our other reviews about longboards and skateboards for kids.